Site plan and directions sketch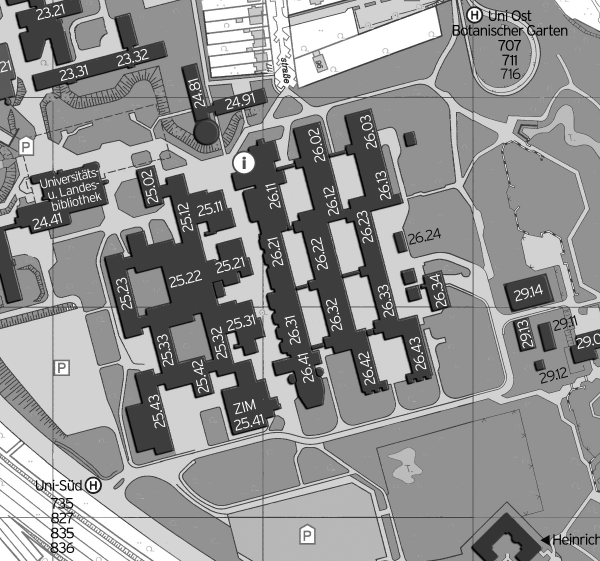 You will find the facilities of the Heinrich Heine University (HHU) and the University Hospital (UKD) in the south of Düsseldorf, only about 3.5 km from the city centre and the main railway station away.

The ZIM is located on the southern campus in building 25.41 and is easily accessible by public transport as well as by car. There are sufficient parking spaces available.
Arrival by public transport
Arriving by plane
The Düsseldorf Rhine-Ruhr Airport is one of the largest airports in Europe. There is a convenient connection to the main railway station by S-Bahn and from there by tram (line U79 to the final stop "Uni-Ost/ Botanischer Garten") to the university.
Arrival by tram/light rail
Rheinbahn timetable information for the U79 tram line
Arrival by bus
Rheinbahn timetable information for bus lines 735, 827, 835, 836
From the east
the university can be reached from the Hildener Kreuz (A 3 / A 46) via the Düsseldorf-Süd motorway junction (A 46). Leave the A 46 in the tunnel (exit Zentrum / Universität). At the first set of traffic lights, you will come to Universitätsstraße, which runs through the campus.
From the west
the A 46 and the A 57 meet at the motorway junction Neuss-Süd. After the Rhine bridge (Fleher Brücke), take the exit Bilk / Zentrum / Hafen / Benrath. Then follow the right exit to the right (Benrath / Universität ).
From the city centre
via Corneliusstraße, Witzelstraße (direction Wuppertal, A 46), then turn right onto Universitätsstraße. You will find parking facilities there.
We would like to point out that parking violations at the university will be rigorously towed away.
Information for visitors with disabilities
Information on parking spaces for disabled persons and an orientation map can be found at the Guide of the Disability Ombudsman.